J&K Bank conducts Bandipora DLRC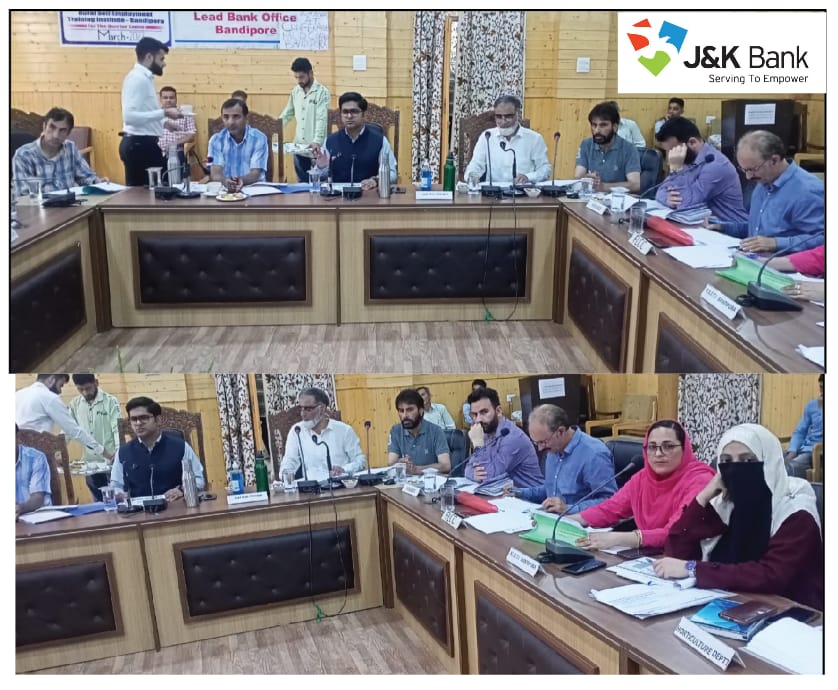 To review the performance of banks and government departments under various schemes, J&K Bank conducted the District Level Review Committee (DLRC) cum District Consultative Committee (DCC) meeting of District Bandipora for March quarter of FY 2021-22 at DC Office Bandipora. Chaired by DDC Bandipora Dr. Owais Ahmad IAS, the meeting was attended by attended by Additional DC Bandipora M A Hakak, Lead District Manager Bandipora Ishtiaq Ahmad Wani, Additional Director Planning Javaid Ahmad, district coordinators of all the Banks, government departments and other developmental agencies.

On the occasion, LDM Bandipora Ishtiaq Ahmad Wani informed the house that all the banks operating in the district have extended credit aggregating to an amount of Rs 399.65 Cr under Priority Sector and Rs 224.91 Cr under Non- Priority sector aggregating to total credit of Rs 624.56 Cr against the yearly target of Rs 887.13 Cr thereby registering an achievement of 52% in Priority sector, 193% in Non-Priority sector with an overall achievement of 70% in total Annual Credit Plan up to 31-03-2022.

While reviewing the performance, Chairman DLRC/DCC directed the participants to expedite disposal of government sponsored cases and conduct more financial literacy camps for effective implementation of the schemes. He further stressed upon the participants to achieve the goals and targets of development while working for eradication of unemployment.
Notably, J&K Bank alone has disbursed Rs 313.39 Cr under priority sector and Rs 205.80 Cr under Non priority sector aggregating to total credit of Rs 519.19 Cr against the yearly target of Rs 444.24 Cr thereby showing an achievement of 117%