J&K Bank conducts DLRC meet in Bandipora, commissions 2 Cash Recycler Machines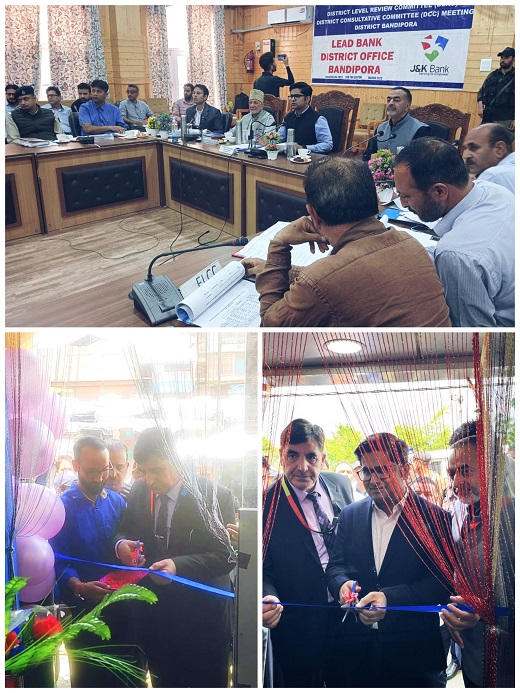 To review the performance of banks and government departments under various schemes, J&K Bank conducted the District Level Review Committee (DLRC) meeting of District Bandipora for quarter ending March 2023 at DC Office Bandipora.

District Development Commissioner (DDC) Bandipora Dr Owais Ahmad (IAS) chaired the meeting attended by Lead District Manager (LDM) Bandipora Shabir Ahmad Dar, Chairman DDC Abdul Gani, Joint director Planning Imtiyaz Ahmad, DDM, NABARD Zubair Ahmad and district coordinators of all the banks, government departments and other development agencies.
Speaking on the occasion, Lead District Manager (Bandipora) informed the house that the Banks operating in the district have disbursed an amount of Rs 642.90 Cr as credit against the target of Rs 1023.30 Cr thereby achieving 63% under the annual credit plan 2022-23 for quarter ending March 2023.

The banks have disbursed Rs 326.95 Cr in priority sector against the annual target of Rs 895 Cr thereby achieving 36% of the target besides Rs 315.96 Cr in non-priority sector against the annual target of Rs 128 Cr achieving 246% of the target.

Pertinently, J&K Bank alone has disbursed Rs 239 Cr under priority sector and Rs 220.85 Cr under non-priority sector aggregating to total credit of Rs 459.86 Cr thereby contributing 89% towards total credit dispensation in the district.

During the review, Chairman DLRC directed the line departments to sponsor quality cases and the Banks for speedy disposal of cases. Regarding performance of banks under Mission Utkarsh, he stressed upon the need for covering more and more people under social security schemes with joint coordination of all concerned agencies. He also urged the banks to improve the credit flow in agriculture along with its allied sectors under HADP plan.

Meanwhile, going ahead with its ease-of-banking mission through digital and alternate channels, J&K Bank dedicated two Cash Recycler Machines (CRM) in Bandipora Town.
Deputy Commissioner (Bandipora) Dr Owais Ahmed (IAS) inaugurated the CRM at Branch TP Bandipora in presence of Bank's Zonal Head (Baramulla) Imtiyaz Ahmed Bhat, LDM Bandipora Shabir Ahmad Dar amid gathering of valuable customers, local residents and other Bank officials.

While lauding the contribution of J&K bank in rendering the world class banking facilities to the people, Dr Owais Ahmed advised the people to avail the Bank's state-of-the-art banking services. He also urged the people to avail social security schemes like PMJJBY, PMSBY & APY that, he said, have been designed to provide financial security to the economically weaker sections of the society.

Further, Zonal Head (Baramulla) Imtiyaz Ahmed Bhat inaugurated Another CRM at Auto Stand Bandipora in presence of LDM Bandipora amid gathering of valuable customers, local residents and other Bank officials.

Reaffirming the bank's commitment to improve customer service further at branches by promoting its digital and alternate channels of banking, Zonal Head said, "The installation of CRM will help in reducing footfall at the adjacent branches because the cash recycler machine not only dispenses cash but provides facility for depositing money also."

Participants on the occasions expressed their gratitude towards the Bank management for extending convenient banking facilities to the people.