To accelerate MSME growth, J&K Bank signs MoU with CIMSME
We have robust numbers to back our commitment towards MSME growth in the country: MD & CEO Baldev Prakash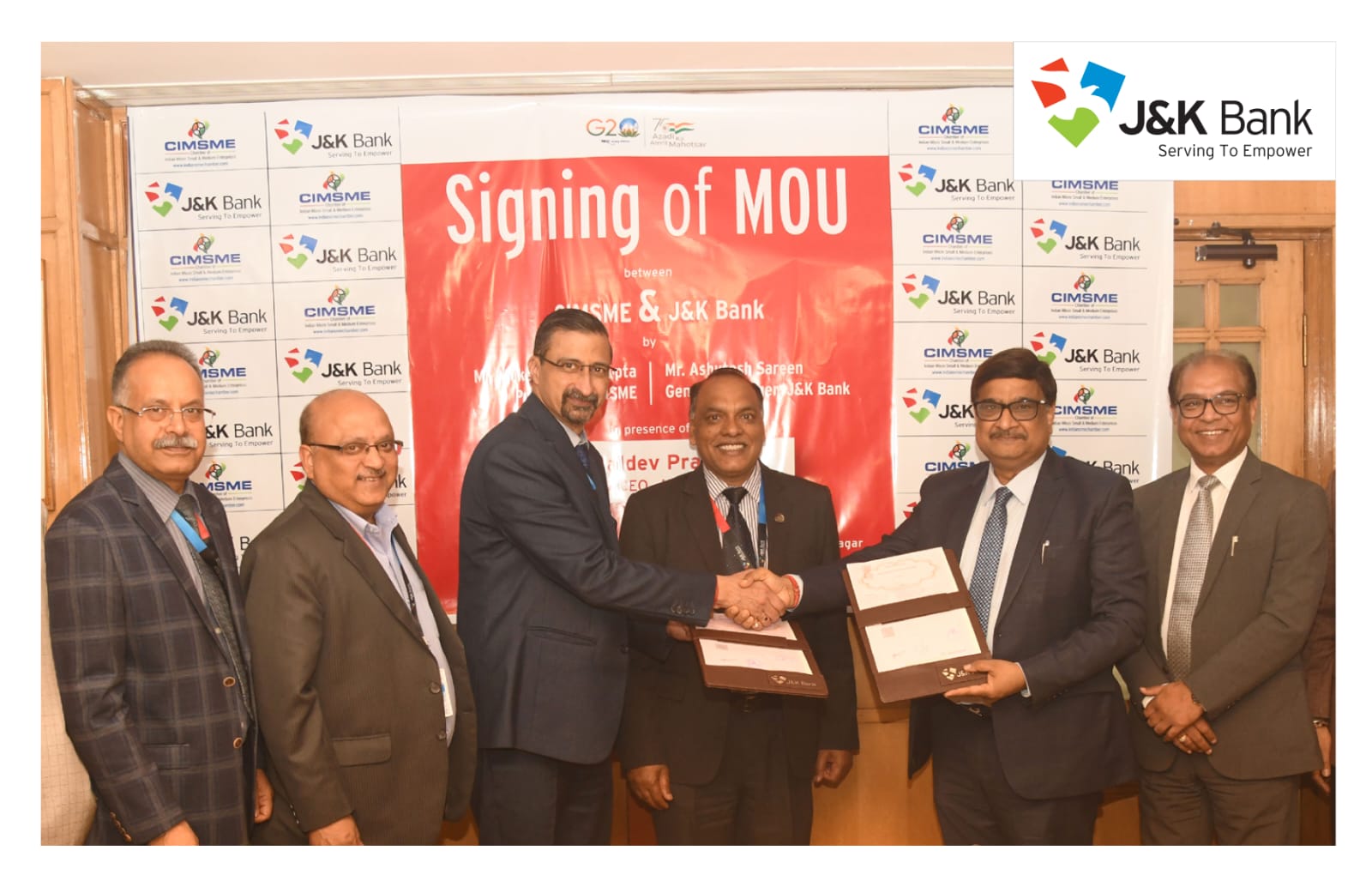 Forging partnership with Chamber of Indian Micro, Small & Medium Enterprises (CIMSME) to accelerate growth of manufacturing enterprises, J&K Bank today signed a Memorandum of Understanding (MoU) with the country's apex chamber of MSMEs that represents their interests and issues with the Government and various Regulators while being active participant in MSME related policymaking.

General Manager (Corporate Banking/MSME/Agriculture) Ashutosh Sareen signed the MoU on behalf of the Bank, while as, President Mukesh Mohan Gupta put in his signatures representing CIMSME in presence of MD & CEO Baldev Prakash, Executive Director Sudhir Gupta, General Manager Narjay Gupta, Director (CIMSME) Subhash Joinwal, DGMs and other senior Bank officials. Bank's Divisional Heads also joined the function through VC Mode.

While lauding the role of CIMSME in promotion of MSMEs, MD & CEO Baldev Prakash expressed pleasure over the signing of MoU. He said, "As a responsible financial institution we understand that MSME sector plays a critical role in fostering entrepreneurship and generates huge employment opportunities thereby contributing greatly to the country's GDP. Moreover, MSME lending is profitable for banking industry and we need to translate this MoU into solid business growth especially in the rest of India because this is the sector which complements the large industries in the form of subsidiary units that are vital to the entire eco-system."

"J&K Bank has always been on the forefront of creating employment opportunities and we have robust numbers to back our commitment towards encouraging the MSME growth in the country. There has been a growth of 440% in the number of Bank's MSME accounts during the last six years while as the credit exposure to the sector has witnessed 232% increase from Rs 4768 Cr to Rs 15872 Cr.", he added.

Asserting that MSME sector will bolster economy of the UT and the country alike, MD said, "We will ensure that bankable leads generated by the CIMSME are processed in a time bound manner."

Speaking on the occasion, President (CIMSME) Mukesh Mohan Gupta said, "We feel honoured for J&K Bank's acceptance of our request for the tie up. Having J&K Bank on board is great boost for us that will eventually help MSME sector a great deal."

Citing the lack of awareness about various MSME schemes and processes to avail the facilities, he stressed upon the need to educate lenders particularly at operational levels and borrowers of this sector. He further added, "We will soon be coming up with a web portal for ease of both MSME lenders and borrowers."

Executive Director, Sudhir Gupta said that signing of the MOU with the apex chamber is akin to forging a partnership that will go a long way in promoting the culture of enterprise across the country while adding to the Bank's business profile.

Earlier, GM Ashutosh Sareen said that under the tie-up CIMSME will not only source the MSME/Start-up proposals across the country but will conduct due diligence of these proposals as per the Bank policy and RBI Guidelines. And once CIMSME is satisfied with the financials and track records of the company/firm, the leads will be shared with the Bank for further processing.

Notably, the Bank provided benefits of employment to around 92000 youth till March 2023, under the J&K Government's flagship programmes 'Back to Village 4.0' and 'My Town My Pride' – a feat that has been hailed by the UT Government and people alike.