J&K Bank MD & CEO launches JKB e-Pathshala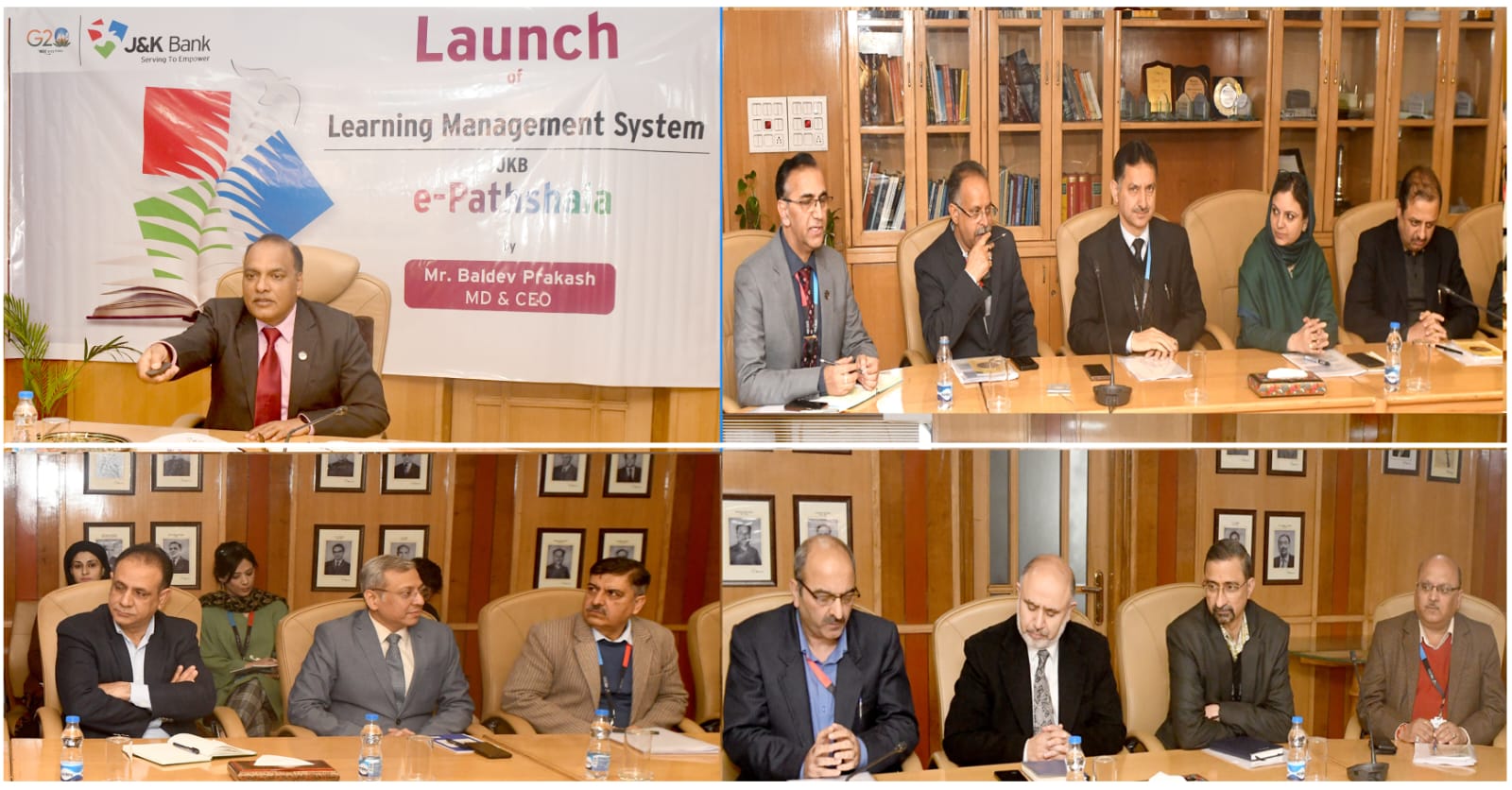 MD & CEO Baldev Prakash today rolled out J&K Bank's maiden staff portal - JKB e-Pathshala - a Unified e-learning platform that has been designed to meet the knowledge requirements of the staff.

The launching ceremony held at corporate headquarters was attended by Executive Director Sudhir Gupta, General Managers and senior officials of the bank besides representatives of K-Nomics (Mintbook) that has developed the module.

While appreciating the concerned department for coming up with such a vibrant e-learning portal, MD & CEO urged upon the staff to take full advantage of the courses and training programs that have been tailored to upgrade their knowledge levels about contemporary issues and practices in banking and finance. MD & CEO said, "We want to develop learning culture in the Bank. And with sweeping changes happening in knowledge driven sectors like Banking, there was a need for our staff to have an easy access to quality learning anytime and anywhere. I am happy to see JKB e-Pathshala as a result of that quest."

"In line with the digital progress and to ensure training needs of our employees are addressed in an effective and convenient manner, we have implemented a Unified eLearning Solution to enable our L&D team to organize, track, manage and most importantly develop the talent within the organisation. The platform will also encourage healthy competition among the staff with best performers getting rewarded suitably", he added.

Earlier General Manager (Human Resource) Sushil Gupta while giving an overview of the platform stated that new module will go a long way in building the capacities of the staff. "In JKB e-Pathshala we have employed gamifications such as coins and badges; leader board, quiz hour etc. to ensure staff engagement besides forums and query-corners allowing the employees to avail real-time support from the experts of relevant subject-domains . The portal contains various learning modules of Indian institute of Banking & Finance (IIBF) with a special focus on training material related to credit, Forex, Treasury operations, Information Security etc.," he said.

Notably, the advanced eLearning platform allows employees to access the courses online besides enabling the Bank to manage training initiatives both online as well as offline programs. Digital library with eBooks from reputed publishers is another unique feature in J&K Bank eLearning. Through this platform, the Bank staff can now undertake mandatory training and certificate courses from the comfort of their homes or anywhere.