J&K Bank inks agreement with LIC of India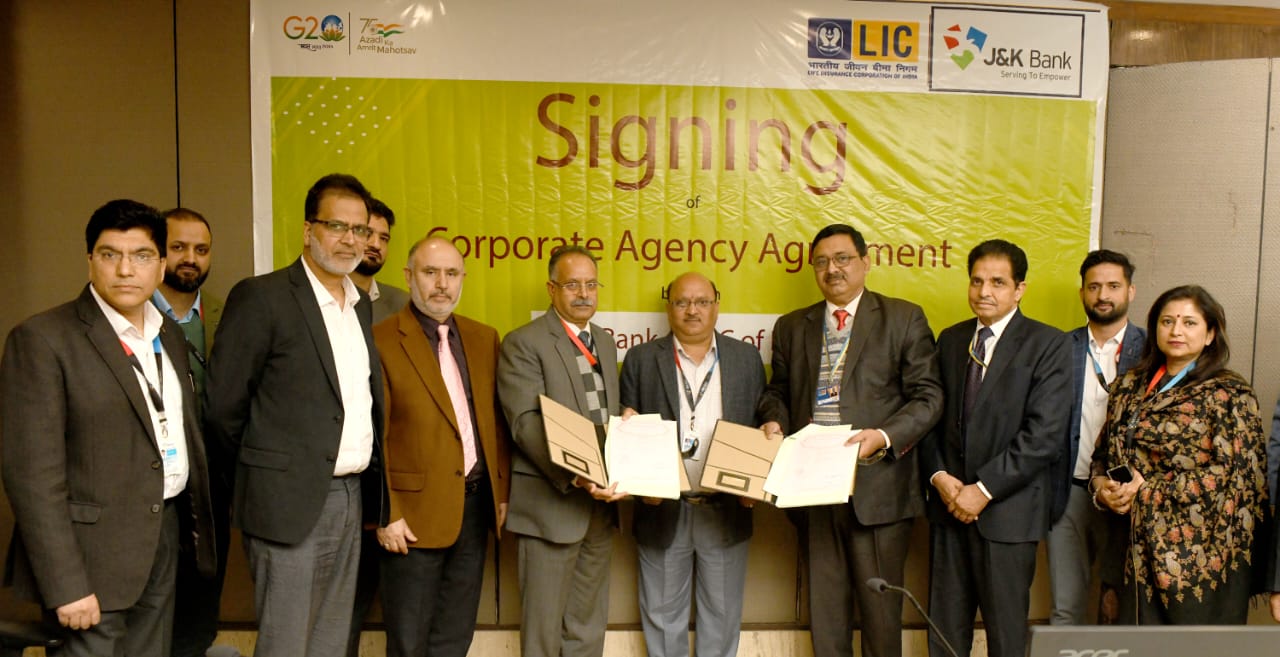 With a view to provide its customers a wider range of life-insurance products and services, Jammu and Kashmir Bank today entered into an agreement with the country's insurance giant Life Insurance Corporation (LIC) of India.

General Manager (Cross Selling Vertical) Narjay Gupta signed the agreement on behalf of J&K Bank, while as, Regional Manager (MBAC) P K Saxena put in his signatures representing LIC India in presence of Bank's Executive Director Sudhir Gupta, General Manager Syed Rais Maqbool, LIC of India's Senior Divisional Manager Dinesh Tanania besides senior officials of J&K Bank and LIC of India at Bank's corporate headquarters. The agreement will be effective from April 1, 2023.

Terming the agreement a milestone set to benefit Bank's growing clientele, Executive Director Sudhir Gupta said on the occasion, "With customer welfare at the heart of Bank's policies, the tie-up with LIC of India - a premier insurance company in the country - will provide our customers an access to wider range of products that LIC offers while adding to Bank's non-interest income. This association will surely be beneficial to both the organisations."

Pleased with the tie-up P K Saxena hoped that association between two leaders in their own operational domains will script a new chapter of success in serving the people. He said, "We are excited with the journey we have embarked upon with leading financial institution in UTs of J&K and Ladakh. By offering the industry-best insurance related products and services to customers, I am sure our company will gain greatly from J&K Bank's extensive network of touch points selling our products."

Sounding optimism General Manager Narjay Gupta said, "LIC's products and J&K Bank's second-to-none services will bring laurels to both the institutions going forward as the agreement will provide greater choice of insurance solutions to the customers."

On the occasion General Manager Syed Rais Maqbool asserted that both the organisations will live up to the expectations of their stakeholders so as to build further on their reputation. "Our country has a vision to insure every individual in the times to come. I think this collaboration will play its part greatly in achieving the national goal across our operational geographies", he added.