J&K Bank ties-up with Seth Industrial Corporation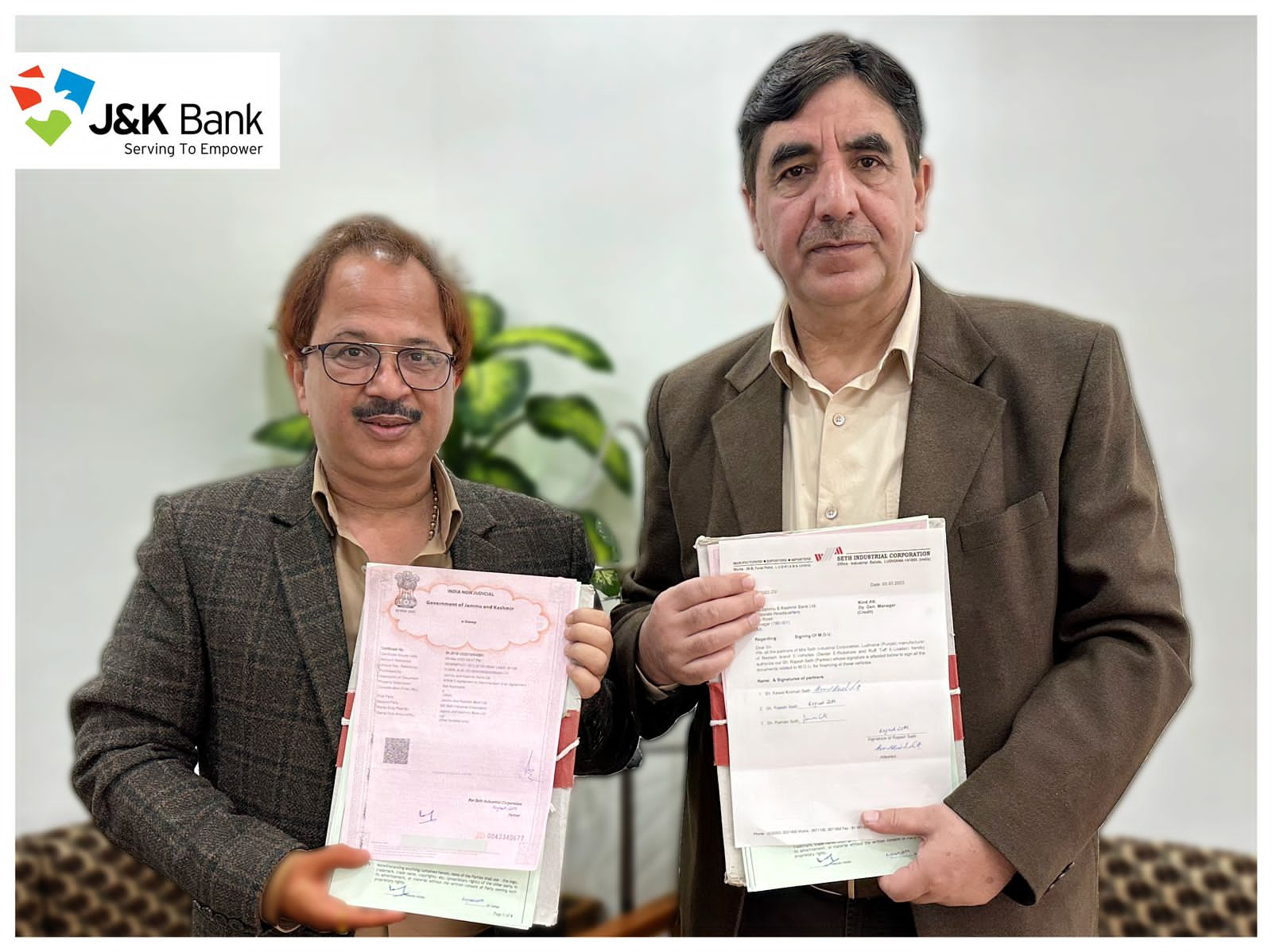 With a view to facilitate its customers, J&K Bank today entered into an agreement with Ludhiana-based Seth Industrial Corporation (SIC) – one of the leading manufacturers in wide assortment of electric vehicles like e-Bikes, e-Scooters, e-Rickshaws in the country under the Brand name 'Neelam'.

Deputy General Manager Imtiyaz Ahmad Bhat signed the MoU on behalf of the Bank while as Rajesh Seth put in his signatures as Joint Director/Partner of SIC in presence of Business Head (SIC) Ranbir Singh Saini during a function organised at the corporate headquarters of J&K Bank.

Speaking on the occasion, DGM Imtiyaz Ahmad Bhat said, "Through this tie-up we are happy to offer easy, affordable and attractive financing solutions to our customers while encouraging electric vehicular transport in the country. As part of our green policy initiatives, we are already partnering with many such electric vehicle manufacturers throughout our operational geographies."

While commenting on the importance of affordable financing, Rajesh Seth said that the demand for electric vehicles was only growing but easy and hassle-free finance was the main supply-side constraint. "However, after signing the MoU with J&K Bank, which is the premiere financial institution in UTs of J&K and Ladakh with strategic presence across the country; I feel the partnership will enable us to scale our operations and provide eco-friendly ride besides sustainable livelihood to our common clientele."

Notably, the bank's customers can avail a range of concessions from SIC that primarily includes over the counter discount of Rs 3000 along with three free services without charge. Also, the clients availing finance from J&K Bank can avail the company's extended warranty period of 3 years on Lithium Batteries instead of 2 years for general customers besides 21 months warranty time on other batteries instead of 18.