J&K Bank conducts Bandipora DLRC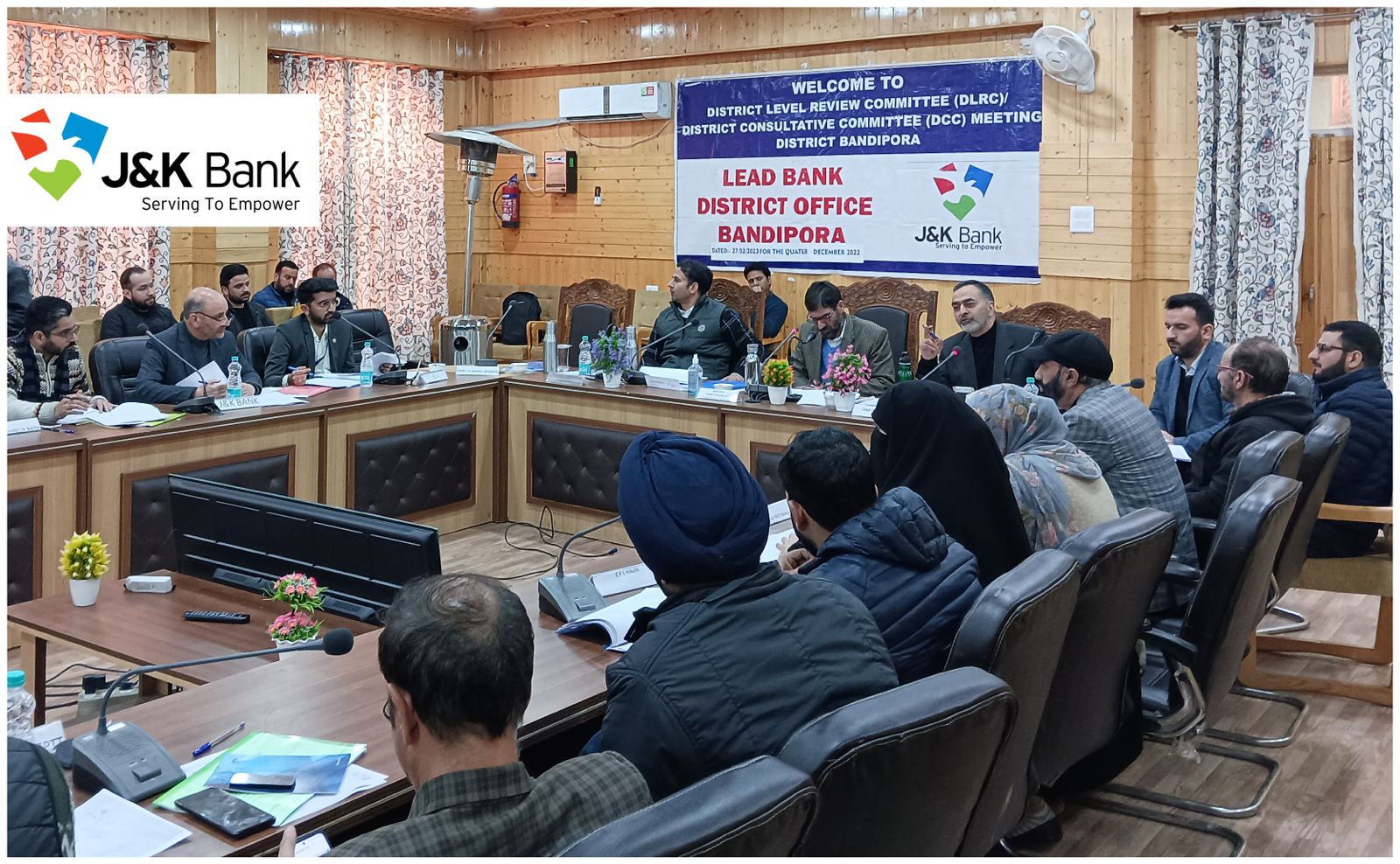 To review the performance of banks and government departments under various schemes, J&K Bank today conducted the District Level Review Committee (DLRC) cum District Consultative Committee (DCC) meeting of District Bandipora for quarter ended December 2022. Additional DDC Bandipora Ali Afsar Khan chaired the meeting that was attended by Joint director Planning Imtiyaz Ahmad, RBI Representative R S Rathore, DDM NABARD Dr Asif and district coordinators of all the banks, government departments and other developmental agencies.

Lead District Manager (LDM) Bandipora Shabir A. Dar informed the house that banks operating in the district have disbursed an amount of Rs 292.94 Cr in priority sector against the annual target of Rs 895 Cr registering 33% achievement while as in non-priority sector, Rs 231.96 Cr have been credited to beneficiaries recording an achievement of 181% against the annual target of Rs 128 Cr.

A total credit disbursement of Rs 524.90 Cr against the yearly target of Rs 1023.30 Cr registering an achievement of 51% of the Annual Credit Plan 2022-23 during the period, he said.

Notably, J&K Bank alone has disbursed Rs 227.26 Cr under priority sector and Rs 159.48 Cr under Non priority sector aggregating to total credit of Rs 386.74 Cr thereby recording an achievement of 73.68% contribution towards total credit dispensation in the district.

While reviewing the performance of banks and government departments, the Chairman DLRC directed the line agencies to sponsor quality cases and urged the banks for speedy disposal of such sponsored cases. The performance with respect to social security schemes under Mission Utkarsh was also discussed and the Chairperson emphasized upon the need to include more people under social security schemes through joint coordination of all concerned agencies.