J&K Bank awarded for promoting digital payments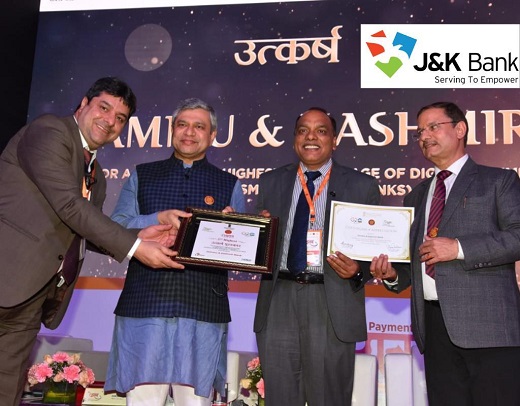 Achieving another feat in digital payment domain, J&K Bank bagged an award for its outstanding performance in promoting digital payments during FY 2021-22. The Bank has achieved 2nd highest percentage of digital payment transactions in Small and Micro Category of private sector banks.
MD & CEO Baldev Prakash received the felicitations from Union Minister of Electronics & Information Technology, Railways, and Communications, Ashwini Vaishnaw at "Digital Payments Utsav" celebrated by Ministry of Electronics and Information Technology (MeitY, GoI) at India Habitat Centre, New Delhi. Bank's Chief Digital Officer Naveed Zargar was also present on the occasion.
While expressing his gratitude, Baldev Prakash attributed the reception of award to the persistent efforts of Bank's Staff. He said, "It is a moment of great satisfaction for all of us as we see our extra-efforts to realise the vision of Digital India not only fructifying but getting acknowledged and awarded at the prestigious platforms of the country. I congratulate every member of J&K Bank Family for this wonderful accomplishment."
"And I am sure, such recognition will drive us to achieve greater excellence not only in promoting digital payments but other aspects like digital lending as well", he added
He further said, "To encourage digital banking in our operational geographies we have embarked on digital transformation journey. The digital mission of the Bank is to improve the customer experience by providing them digital banking services that are convenient, easy, affordable, quick and secure."
With the proactive measures taken to encourage digital payments, the Bank had successfully surpassed the Digital Payment Transaction target allocated by MeitY for the financial year 2021-22.
Pertinently, J&K Bank has bagged 'Utkarsh Puraskar - 2020-21' last year also for being one of the top two achievers in digital payment transactions under the category of Small and Micro banks.