J&K Bank Management meets HNI Clients in Jammu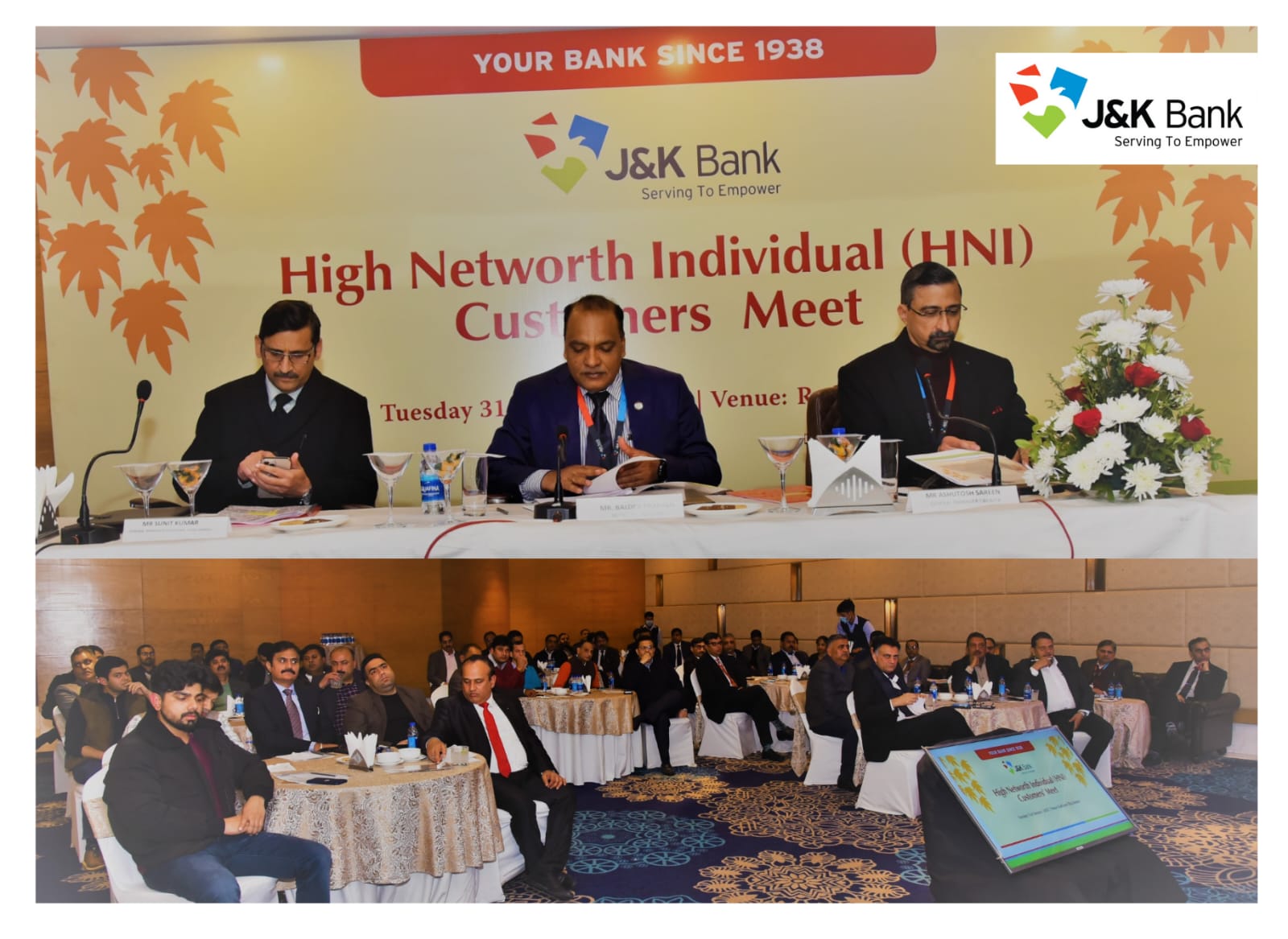 We will keep supporting each other so as to grow and prosper together: MD & CEO
Continuing with its reach-out program to clients with large credit exposure for their feedback and suggestions regarding its recently set-up Large Credit Units (LCU), J&K Bank today organised second Customer Meet with its High Net-worth Individual (HNI) clients from Jammu Division.
MD & CEO Baldev Prakash chaired the interactive meet with Jammu Division's top HNI customers in presence of Bank's General Manager (Credit) Ashutosh Sareen, GM & Divisional Head (Jammu) Sunit Kumar, DGM Nishikant Sharma, Zonal Head Rajesh Dubey and other senior officers.
Expressing his pleasure to the guests for gracing the occasion, MD & CEO Baldev Prakash said, "I feel happy to have you all here as our most valuable clients. As an institution with great legacy of empowerment, we have always been there for you through thick and thin of times. And with a unique bond of time-tested relationship between us, we will keep supporting each other so as to grow and prosper together."
"Having said that, we have effected some fundamental changes in the Bank's operational structure and service culture during the last three quarters keeping betterment of our clients at the heart of such transformation. We have upgraded our technology system and aligned our procedures and policies while complying with the evolving regulatory frameworks across the industry. And I deeply appreciate your patience and the kind of support you have extended to us during the transition period that witnessed some teething issues. And let me assure you that all the changes are well thought out and we will live up to your expectations", he added.
He further said that the purpose of the interaction is to ascertain the impact of changes on the clients and get feedback to improve upon the areas of mutual understanding and progress.
The participants thanked MD & CEO Baldev Prakash along with the management for conducting the meet and put forth their concerns and suggestions.
"We are very thankful for your time and the thoughts that you have expressed here. We appreciate your empathetic hearing as we have a lot of expectations from our Bank, which continues to play an immense role in the economic growth and development of J&K. We feel such meetings with the business community should become a visible feature of our strong relationship", said the participant clients in unison.
After listening patiently to the concerns and suggestions made by the HNI clients, MD Baldev Prakash asserted, "As partners in each other's growth and progress, we need to understand and empathise with each other. And I assure you that such interactions will be held more often in the future and we shall be inviting more participants."
Present on the occasion, General Manager (Credit) Ashutosh Sareen spoke about the conceptualization of the new structure in form of Large Credit Units. "In terms of importance, all customers are equal for us but we do understand that the level of attention provided to clients requires a certain sense of proportion with the quantum of his/her exposure. It is with this objective these LCUs were established to provide specialized yet highly personalized services to HNI customers under one roof. And we believe we need to take special care of our most valuable clients like you," he said.
Earlier, Divisional Head (Jammu) Sunit Kumar welcomed the HNI Clients and discussed the context of meeting in detail. "Being the flagship company of J&K, we have always believed in cordial and candid exchange of views with our customers. And today, I welcome you all to this meeting that has been organized to listen to your feedback regarding various recent initiatives taken by the bank to improve organisational functioning while making its services better for its clientele", he said.
The meeting concluded with the vote of thanks delivered by DGM Nishikant Sharma.