Chief Secretary Dr A K Mehta launches J&K Bank's e-ticketing platform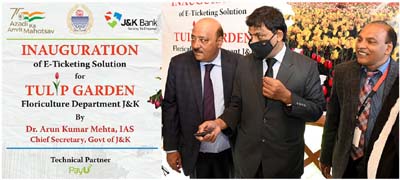 Chief Secretary Dr Arun Kumar Mehta today launched the J&K Bank- enabled e-ticketing facility here at the inaugural function of Tulip Garden - Asia's largest such garden housing around 1.5 million tulips - in presence of Commissioner (Floriculture Department) Sheikh Fayaz Ahmad, Commissioner/Secretaries, Bank's MD & CEO Baldev Prakash, Director Floriculture Farooq Ahmad Rather and other senior government functionaries

Bank's Executive President Sunil Gupta, Presidents Narjay Gupta and Syed Rais Maqbool, Vice President Manju Gupta, representatives of PayU besides other senior officials of the Bank were also present at the function. The first ticket was booked online for Dr A K Mehta from the web portal enabled by the Bank in collaboration with its technical partner PayU.

Commending J&K Bank after throwing the Tulip Garden open for public, Dr A K Mehta said, "J&K Bank has done very well. I compliment the Bank for coming up with online portal well within timeline as expected. Now the visitors won't need to be in queues, which most of times would spoil their mood. We hope visitors will love to be here now enjoying their stay without any hassles."

Speaking on the occasion, MD & CEO Baldev Prakash said, "The launch of this e-ticketing platform is very much in line with the Government's focus on public convenience in general and comfort of tourists visiting J&K in particular. The e-booking provision has been made available on the website of Floriculture Department from the day one to enable the tourists from outside to plan their visit comfortably online besides saving the locals from hassles of long-waiting queues."

"For public convenience, we will integrate more such utility services into our digitalization drive to widen the ecosystem of online payments thereby increasing the overall efficiency of the region's financial system", he added.

Notably, the online booking system is very simple and easy to use. After clicking the online booking link available on the website of Kashmir Floriculture Department, one needs to enter the fields of Visit date, Visitor's Name and Visitor's mobile number and then proceed to payment gateway page and pay by credit card / debit card / internet banking / UPI. After successful payment the ticket gets generated with QR code, which will be scanned at the booking counter.