J&K Bank conducts DLRC Meet in Kulgam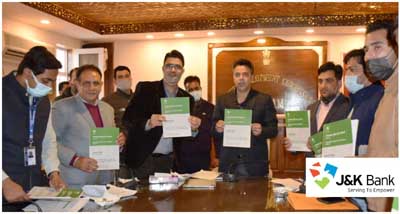 To review the performance of Banks and other related Departments in Kulgam district during CFY up to December 31, 2021 under Annual credit Plan and Government Schemes, J&K Bank conducted District Level Review Committee (DLRC) meeting on Tuesday that was chaired by the District Development Commissioner (DDC) Kulgam Dr. Bilal Mohiudin Bhat (IAS). The meeting was attended by CPO, Lead District Manager, and Representative from RBI, DDM NABARD, district officers of line departments, and district coordinators of other banks.

LDM Kulgam, Arshad Qadri informed the house that deposits of Banks stood at Rs 2240.97 Cr on December 31, 2021 witnessing growth of 9.58% over December 2020 figures, while as Advances were at Rs1699.75 Cr registering increase of 10%.

The Credit Deposit Ratio of the district is 75.85% which is quite above National Bench Mark of 60%. Under District Annual Credit Plan (2021-22) of Rs 1398.24 Cr, Banks have disbursed Rs 795.02 Cr to 33490 beneficiaries till December 31 thus achieving 57% of ACP target.

While reviewing sector wise achievements, Chairman DLRC advised Banks to improve credit dispensations in Agriculture, MSME, and to increase focus on housing and education sectors.Dr.Bilal emphasized upon the participants to cover the unemployed youth under various self-employment generating schemes and to ensure proper implementation of government sponsored schemes likes PMEGP, REGP, and other self-employment generation schemes besides covering all eligible persons under PMSBY, PMJJBY and APY. He also urged upon the Banks and Line Departments to work in close coordination to cover maximum people under various sponsored schemes of government through timely sponsorship and sanctioning of cases.

The house was also informed that the first Farmer Producer Organization (FPO) has been approved by NABARD for Qaimoh Block of the district covering organic vegetables activity.

On the occasion, DDC and line departments appreciated the efforts of lead bank office Kulgam for better coordination and management of Govt sponsored cases. Notably, the District has already over achieved both PMEGP and REGP targets and has sponsored more than 100 vehicles under MUMKIN scheme. Furthermore, under MUDRA Loans, Rs 117 Cr have been disbursed in the district.
During the meeting, DDC Kulgam also approved the district credit plan and Potential Linked Plan for the financial year 2022-23.