Vikram Gujral felicitates J&K Bank CMD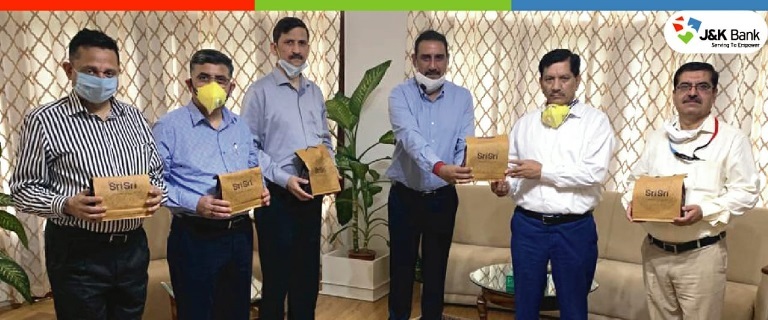 'work done by the employees, management appreciable'
Director on Board J&K Bank and Apex Body Member/Trustee for the Art of Living Foundation, Vikram Gujral today called on the Chairman and Managing Director (CMD) J&K Bank, Rajesh Kumar Chhibber and handed over immunity booster kits specially designed for the frontline warriors providing service to the humanity during the ongoing covid-19 pandemic besides appreciating the relentless work being done by the employees and the management of the bank during these challenging times.
The director and the apex body member also conveyed the message of the founder of The Art of Living Foundation the need to build a socioeconomically stronger post-covid society. "The pandemic has created a global crisis with far reaching social and economic repercussions. Our resilience during these challenging times will be tested not only by how we combat the spread of the virus but how we build a better society and emerge stronger", he said in his message.
Acknowledging the gesture, the CMD appreciated the foundation for recognising bank employees as Covid-warriors and providing them with the immunity booster kits that include immunity strengthening Ayurvedic preparations, sanitizers, masks etc. for the frontline workers.
The bank's Executive Presidents Arun Gandotra and Sunil Gupta, Vice Presidents Shareesh Sharma and Sunit Kumar were also present on the occasion.
Notably, the Art of Living Foundation, under the aegis of spiritual leader Sri Sri Ravi Shankar, also organizes free breath and meditation workshops for the frontline workers, immunity building workshops, anxiety help- line for those mentally affected by the pandemic besides trauma relief and Covid-19 care programmes in slums across the country.