J&K Bank bags Top Banker Award for PMEGP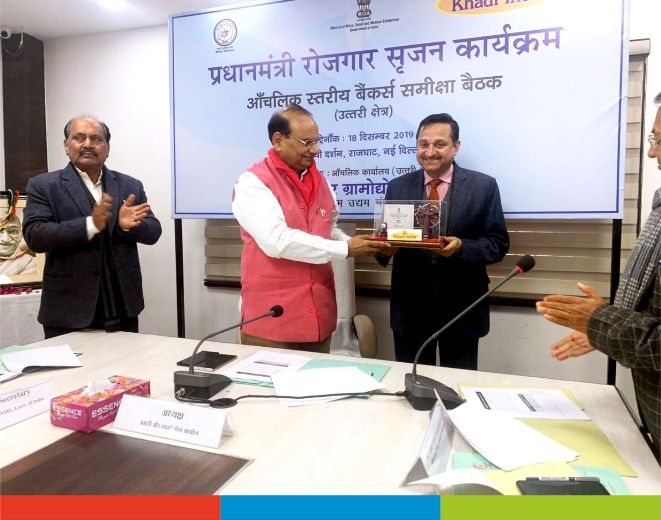 For its outstanding performance under Prime Minister's Employment Generation Programme (PMGEP) in the entire North Zone, J&K bank has bagged Top Bankers Award for the financial year 2018 -19.
The bank earned the top slot in the North Zone by financing 5886 projects during 2018-19 for credit dispensation of Rs 342 Cr under the schemefor which Government of India (GoI) has disbursed Margin Money Subsidy of Rs 120.34 Cr during the period.
On behalf of J&K Bank, President Sunil Gupta received the award today from Chairman Khadi and Village Industries Commission (KVIC), Ministry of MSME (GoI) Vinay Kumar Saxena during the North Zone Bankers Review meeting on PMEGP at the Institute for Industrial Development, KVIC Gandhi Darshan, New Delhi.
Commenting on the award, Chairman and Managing Director R K Chhibber said that it was the valuable and timely appreciation of the efforts put in by our staff while discharging their duties with diligence and dedication.
"Ranging from Financial Inclusion to the execution of government sponsored schemes like PMEGP besides other social security schemes, J&K Bank has remained at the forefront of implementing all the flagship economic schemes of the government in the region. And we shall continue to promote all these sponsored schemes and work for the socio-economic upliftment and wellbeing of the people", the CMD said.