Chief Minister launches J&K Bank's Mobile Banking, AEPS apps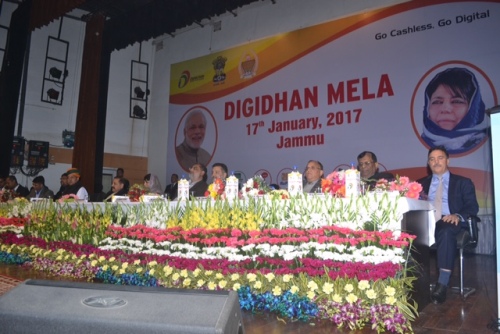 Chief Minister Mehbooba Mufti launched J&K Bank's Mobile Banking & Aadhar Enabled Payment System (AEPS) Apps here today at a glittering function organized in connection with Digi Dhan Mela. The Mobile Banking App has been specifically designed to cater to the various banking needs of the customers. While as AEPS is an application which enables a customer having Aadhar number seeded with his bank account to conduct financial transactions.
The inauguration of the Apps was done in presence of Union Minister of State, PMO, Dr Jatinder Singh, Union Minister of State for Finance, Arun Ram Meghwal, Minister for Finance, Dr. Haseeb A Drabu, Minister for IT, Molvi Imran Raza Ansari and Minister for Planning and Finance, Ajay Nanda, Chief Secretary B R Sharma, Principal Secretary IT, R K Goyal, Chairman & CEO J&K Bank, Parvez Ahmed, Advisor Niti Ayug,, Dr Manoj Singh.
Celebrities Javed Jaffery and Lt. Col Ranveer Singh Jamwal, Deputy Commissioner Jammu, Simrandeep Singh, representatives from various banking and financial institutions, officers and a large number of people were present on the occasion.
J&K Bank's Mobile Banking App shall help the customers to use mobile phones in all the banking transactions including fund transfer through NEFT/IMPS, mobile to mobile transfers etc. Besides, the customers can make bill payments through their mobile phones by using this application. Checking account balances, instant mini statements, transaction history, cheque status and stop cheque payment are among other features of the App.
The Mobile Banking App of the bank can be downloaded from App store and installed on the phone. Once App is downloaded, the customer has to register for activating the services by using the J&K bank Debit Card. The registration can also be done by using any ATM.
Customers of J&K Bank or any other bank who have seeded their Aadhar number with their bank account number can avail AEPS services using Aadhar authentication. Under AEPS the four Aadhar enabled types of banking services available are balance enquiry, cash withdrawal, cash deposit and Aadhar to Aadhar fund transfer. The only inputs required for a customer to do a transaction under this App are Aadhar Number and figure print captured during their enrollment.